Chimney Flashing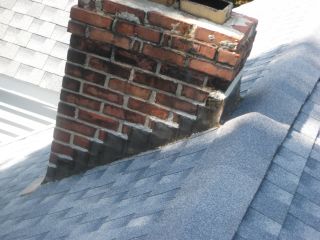 Chimney Flashing
Chimney flashing is by far one of the most important components of a successful residential roof system.  Most common roof leaks are found near the base of the chimney and almost always are a sign of improper or degraded flashing. Brick chimney flashing consist of several components that include the underlayment, step flashing, a metal saddle, mortar, counter flashings, and solder.  It is not an easy task, and only a skilled tradesman should perform the installation of new flashing to the chimney to ensure success.
Here at JFKRoofing LLC, we put our trust in the leading manufacturers of building products to provide us with the best products possible.  Combined with our high quality workmanship,  we earn our customers trust for years to come and give them peace of mind! We wouldn't have it any other way! Let JFK Roofing LLC repair your Chimney Flashing today!
Old flashing removed


Chimney Saddles repaired

Copper/Aluminum/Steel step flashing

Cricket on chimneys wider than 30 inches

Project Management
Here at JFKRoofing LLC our Project Management personnel will initiate, plan, execute, control, and close your project.  We will work to achieve your specific goals and meet our specific success criteria at the agreed upon specified time interval.  We will get it done the right way, the first time!                                                                                                                                                                                               
Coordination Process
Our Team will coordinate the process that will involve our proven use of strategies and timely communication aimed at keeping everybody knowledgeable of the goals of  all parties in order to achieve a successful project.  A Successful project is one that exceeds expectations, is within budget and completed on time.                                                                                                                                                                        
Reporting and Cost Control
Here at JFKRoofing LLC, we will always advise you on the most efficient and cost preventative solution to your problem.   All aspects of your job are reported on within a timely fashion.  Should we run into any unforeseen issues, we will immediately contact you to develop a plan to further progression.  Nothing is left hidden from you, our work stands the test of time!
Commissioning and Project Closeout
The Project Closeout walks owner/occupants through the close-out process by showing work packages completed to their satisfaction. This enables you to evaluate our job before we leave to ensure that they are completed and nothing left behind. You can see at glance whether or not the work package bid upon was completed as requested. Approved, and verified by you.
Categories: